We are thrilled to welcome our newest tenant, Caleb's Breakfast and Lunch to Red Bridge Shopping Center!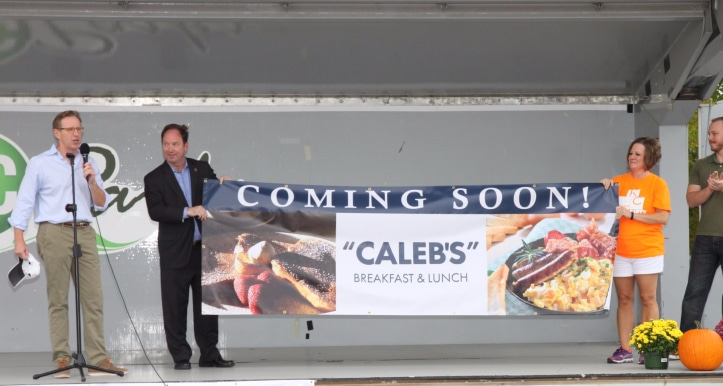 Photo Credit: Bill Rankin, Martin City Telegraph
Caleb's Breakfast and Lunch is a new concept from owner Rebecca Huntsman. Rebecca is no stranger to the breakfast business, she grew up watching her father Ron Hendrix settle into a highly successful routine with a similar concept. Ron spearheaded First Watch's expansion into Kansas City and many other areas nationwide over the past 30 years, and today owns two franchises in the Oklahoma area.
Caleb's will offer classic breakfast and lunch fare like fluffy pancakes, loaded omelets, fresh baked biscuits, salads, sandwiches and more in a cozy, family-friendly environment. According to Rebecca though, great food is only half the equation. "We want to know the community. We want to be the community. We want to know the people that walk in our door, know how many grandchildren they have and what's going on in their lives. And while we are getting to know the community, we'll serve great food."
For more information and more fantastic photos from the South KC Block Party, visit the Martin City Telegraph. "Anticipated Announcement Made at Red Bridge Block Party"